Obviously, your car needs tires if you want to drive at all. They allow you to roll down the road, which is the difference between an automobile and an expensive piece of metal junk. But, why else are they key?
Healthy tires contribute to ideal performance, optimal efficiency, and, most importantly, safety. Thus, with that in mind, when it's time to have your tires repaired, you should get on that as soon as possible.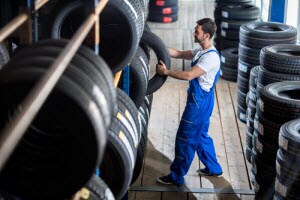 If you've been asking yourself, "Where can I get a tire repair near me?", luckily, our team at Kelly Jeep Chrysler Dodge Ram can help. We're some of the premier experts in the area when it comes to high-quality tire repairs and top-of-the-line tire replacements. Contact us today.
Signs Your Car Needs Tire Repairs
Here's an overview of a few of the major signs your car needs tire repairs or replacement...
Tread wear:If your treads are worn down, you should have a professional examine your tires. You can check for this with either the built-in indicator bars or the tried-and-true penny trick.
Cracks, bulges, blisters:Don't continue to drive on tires that are riddled with cracks, bulges, or blisters! They could blow out at any moment; you're putting yourself and your family at risk.
 Tire pressure:Tires that are deflating at a rate of greater than one pound per square inch (PSI) per month could use service. The team at our service center will know exactly what to do.
Intense vibrations:It's a car, not an amusement park ride. It shouldn't vibrate uncontrollably.
Tire Center Emmaus PA
Our expert automotive technicians have years of experience working with tires of all different shapes, sizes, and varieties. If you think you might have an issue with your tires, we can probably help.
Best of all, we'll do our job with a professional attitude, always working courteously and efficiently.
Schedule a Service Appointment Today at Kelly Jeep Chrysler Dodge Ram!
If you live near Emmaus, Allentown, Bethlehem, or any of the surrounding Pennsylvania communities, then you can set up a tire repair appointment right on our Kelly Jeep Chrysler Dodge Ram website.