Here at Kelly Jeep Chrysler Dodge Ram, we get a lot of questions from drivers in Emmaus, Allentown, and Bethlehem about routine maintenance and services. One of the most common is When do my brakes need to be replaced?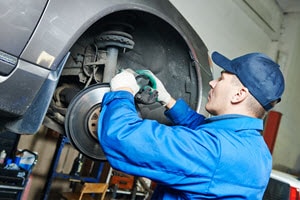 Brakes are designed to last for years, but the exact time frame of when they will need to be replaced will depend on your specific driving patterns. That's why it's important to be aware of any warning signs that spell trouble for the brake system.
Here are some of the most common brake replacement signs you should look out for. 
Screeching Noises
When your brakes start to wear down, the first thing you'll notice is a noticeably loud screeching noise when you tap on the brakes. This comes from a little metal shim in the brake pads and is designed to let you know that they're less than ¼ of an inch in thickness, which is too low for the system to run properly.
You can also hear the same squealing noise after your car gets a little wet. However, it should go away after a few minutes. If it's still audible after a bit of time, contact a professional service center and get your brakes replaced.
Harsh Grinding Sounds
If you don't have your car serviced when you first hear the screeching, that noise will transform into harsh grinding sounds. This lets you know that the brakes pads have worn completely through.
As you're traveling, you'll hear the grinding noises every time you step on the pedal to slow down. This is thanks to the disc and caliper rubbing together. Since the pads have completely worn down, they can no longer act as a barrier between these two parts. As a result, the disc and caliper will start to rub together, causing that harsh grinding noise.
Air or Brake Fluid Leak
Your brakes are designed to deliver the appropriate amount of stopping power to ensure your safety. So, if the system's responsive performance starts to decrease or your vehicle has a harder time slowing down or stopping, these are signs that your brakes are beginning to fail.  
Normally, this issue comes from lack of brake fluid or an air leak within the system. However, it can also be a sign of other serious brake issues. The best way to know what type of trouble your car is suffering from is to contact a professional for an inspection and repair.
Warped Rotors
A warped rotor is a typical sign of bad brakes. To see if you have warped rotors, take a spin around town. Did you feel the pedal vibrate when you stepped on it? If so, you'll need to have them replaced.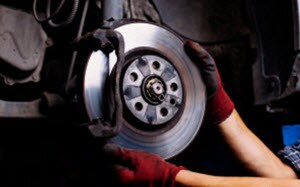 Rotors become warped when they're exposed to high levels of heat when excessively braking. The vibrating sensation is similar to what you'd feel when the anti-lock braking system engages, and it comes from the brake pads' inability to grip onto a smooth surface.
Schedule Your Brake Replacement
Knowing exactly when you'll need to replace your brakes will depend on your driving patterns, but understanding these common warning signs will give you a better idea of when they start to fail. So, be aware of them as you're traveling through Emmaus, Allentown, and Bethlehem!
To learn more about these and other common brake replacement warning signs, or to have your brakes replaced, schedule a service appointment at Kelly Jeep Chrysler Dodge Ram now!