If you're looking for an SUV that can take you from the streets to the toughest terrain, you'll want to consider both the 2017 Jeep Wrangler Unlimited and the 2017 Toyota 4Runner. These two SUVs are designed to handle serious off-roading, so if that's where you find yourself on the weekends, you'll love one of these models. But how do you know which one of these options is the best for your specific needs?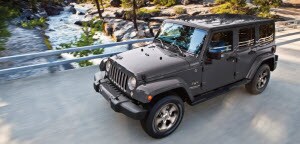 This comparison of the Jeep Wrangler Unlimited vs. Toyota 4Runner from the team at Kelly Jeep Chrysler Dodge Ram will help you answer that question. We'll break down all of the features of each vehicle, so you can compare them side by side and decide which is best for your trips around Emmaus, Allentown, Bethlehem, and beyond.
Jeep Wrangler Unlimited vs Toyota 4Runner: Overview
The Jeep Wrangler Unlimited is unique in that it's offered in more than one body style: You can opt for a 2-door, 4-passenger option or a 4-door, 5-passenger option, known as the Unlimited. On top of that, you can get either of those body styles in three different trim levels, plus additional special models based on those trims. A vinyl convertible roof is standard on all trims, so you can take the top down for an exhilarating breeze. The Toyota 4Runner is available in six trim levels, and doesn't offer a convertible top.
Performance Specs
The Wrangler Unlimited offers 285 horsepower, while the 4Runner offers 270 horsepower. Both vehicles have an EPA-estimated 17 city/21 highway MPG. The Jeep Wrangler Unlimited comes with standard 4-wheel drive, while the 4Runner comes with standard rear-wheel drive and the option to upgrade to 4-wheel drive for improved handling and traction.
Interior Space: Wrangler Unlimited vs 4Runner
Inside the Jeep Wrangler Unlimited, you'll find 41.3 inches of front-seat headroom, while the Toyota 4Runner offers only 39.3 inches of headroom in the front seats. In the back seat of the Wrangler Unlimited, you'll have 40.4 inches of headroom and 37.2 inches of legroom. The 4Runner offers a smaller 38.6 inches of headroom and 32.9 inches of legroom.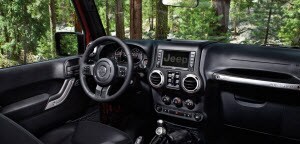 A Comfortable Cabin
Both the Wrangler Unlimited and the 4Runner come with standard cloth upholstery and seating for five. Leather upholstery is available for a luxurious upgrade, as well as cozy heated front seats. To keep you from getting lost on the road to your next adventure, opt for available navigation. On the Wrangler, you'll get a standard convertible roof that can be upgraded to a convertible hardtop.
Jeep Wrangler Unlimited vs Toyota 4Runner: Verdict
If you plan to do a lot of off-road adventuring and exploring, you'll definitely need a capable SUV that's equipped to handle even the toughest, rockiest terrain. You can't go wrong with either the Jeep Wrangler Unlimited or the Toyota 4Runner, but we think that customers will appreciate the Wrangler's powerful engine, convertible top, and roomy passenger space.
If you think the Jeep Wrangler Unlimited could be the right choice for you, contact Kelly Jeep Chrysler Dodge Ram today to schedule a test drive.