The midsize SUV offers a perfect compromise between providing the interior space you need for passengers and cargo to fit comfortably and being easy to maneuver on your commutes around Emmaus, Easton, Bethlehem, and Allentown. If you're looking to get one of these vehicles into your garage, check out the 2017 Jeep Grand Cherokee and the 2017 Ford Explorer. Both are great options, but how do you know which is the best option for your particular needs?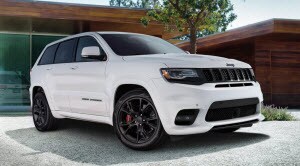 This comparison of the Jeep Grand Cherokee vs Ford Explorer from the team at Kelly Jeep Chrysler Dodge Ram will help you discover an answer to that question. We've broken down all the specs, features, and capabilities of these two SUVs so you can compare them side by side and decide which one you'd love for your drives.
Overview: Jeep Grand Cherokee vs Ford Explorer
The 2017 Jeep Grand Cherokee offers a maximum of 475 horsepower to speed you on your way, while the Ford Explorer offers only 365 horsepower. The Grand Cherokee comes with standard rear-wheel drive, while the 2017 Explorer comes with standard front-wheel drive, although either one can be upgraded to 4-wheel drive for improved traction and better handling on icy, slippery winter road conditions. Each comes with a standard automatic transmission that provides smooth shifts.
Take It Off-Road
If you plan to take your SUV off-road, the Jeep Grand Cherokee offers four 4x4 drivetrain systems to choose from, as well as a variety of other off-road features. This is what the Jeep brand does best; you'll find that your SUV rides smoothly both on the highway and on the rockiest terrain. Features include adjustable air suspension and the ability to choose the terrain mode you want for a customized drive. The Grand Cherokee also has a nice, high ground clearance to keep the body clear from large rocks and other obstacles. The Ford Explorer offers an optional Terrain Management System™ to help you if you take it off-road.
It's What's Inside That Counts
Cloth upholstery is standard in both the Grand Cherokee and the 2017 Ford Explorer. The Grand Cherokee also comes standard with a leather-wrapped steering wheel and gear shift. Leather upholstery, heated seats, power-adjustable front seats, and more are available features on both cars. Additionally, the 2017 Grand Cherokee offers a power tilt-and-telescoping steering wheel and memory settings for the front seats and side view mirrors, so it's easy to find and save your ideal seating position.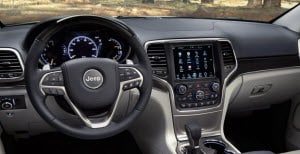 Both SUVs offer a 6-speaker audio system, Bluetooth® for hands-free phone calls, a rearview camera for easy parking and reversing, and a USB port to charge your devices. The Grand Cherokee also offers standard dual-zone automatic climate control and push-button ignition.
Take It for a Spin
Now that you have all the information you need, it's time to make your decision! Our team at Kelly Jeep Chrysler Dodge Ram thinks that our customers will appreciate the Jeep's off-road capability, powerful engine, and standard comfort and tech features. Contact us today to schedule your test drive. Soon, you'll be exploring Emmaus, Easton, Bethlehem, and Allentown in your brand-new Jeep!