Jeep has a long history of providing a fantastic driving experience for its owners. Dating back to 1945, the automaker has offered a wide variety of trucks and SUVs over the years, each with evolving options and choices. This year, two new models entered the Jeep family: the 2017 Cherokee and Grand Cherokee.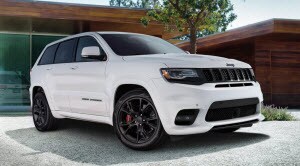 Even though these vehicles are made by the same company, there are some differences between the two that stand out. This Jeep Cherokee vs Grand Cherokee guide from Kelly Jeep Chrysler Dodge Ram will detail the differences between each of these SUVs, and show drivers in Emmaus and surrounding areas what to look for before they buy.
Multiple Choices
The first thing to note is that both the 2017 Jeep Cherokee and Jeep Grand Cherokee come with a long model line for drivers to choose from. In fact, both models have eight different trims available. The Cherokee has Sport, Limited and Trailhawk models among its trims, and the Grand Cherokee includes Laredo, Overland and SRT versions. Many of these also come with either 4X2 or 4X4 driving, so there is an option for every type of driver.
Jeep Cherokee vs Grand Cherokee: Safety
Jeep vehicles are known for keeping drivers safe, and the 2017 Cherokee and Grand Cherokee both excel in this field. The Insurance Institute for Highway Safety gave each vehicle top ratings in four categories, with a marginal score in the front overlap test. The National Highway Traffic Safety Administration gave the Cherokee a four-star rating throughout the model line, with the Grand Cherokee earning a four-star mark for its 4X2 models and a five-star mark for the 4X4 versions.
Both vehicles come equipped with a number of safety options. With the Cherokee, standard features include airbags, plus traction and stability control. Additional features such as blind spot monitoring come standard with upper trims and are available as options for other versions. The Grand Cherokee has a standard backup camera and rear parking sensors across the line, as well as available collision warning and parking assist.
Technology and Interior in the Jeep Cherokee vs Grand Cherokee
As expected, both the 2017 Cherokee and Grand Cherokee come loaded with features designed to excite its drivers. The Cherokee comes standard with bluetooth, USB ports, voice controls and Jeep's Uconnect Infotainment system. As for the Grand Cherokee, standard accessories include dual-zone auto climate control, push button ignition and proximity key entry. Both SUVs have a number of available options, such as remote start, navigation systems and wireless charging pads.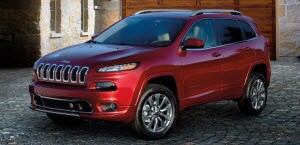 In addition, both vehicles come with a lot of available cargo space. The Cherokee has 24.6 cubic feet of cargo space, expanding to 54.9 cubic feet when the rear seats are folded down. The Grand Cherokee comes with 36.3 cubic feet with extra space reaching 68.3 cubic feet.
Jeep Cherokee vs. Jeep Grand Cherokee: Who Wins?
The 2017 Jeep Cherokee and the 2017 Jeep Grand Cherokee each have a lot of features to offer drivers. Whether it's the midsize Cherokee or the larger Grand Cherokee, both have the technology, driving performance and safety car buyers have come to expect from Jeep.
To see these two vehicles in action for yourself, come to Kelly Jeep Chrysler Dodge Ram. Whether you are in Emmaus or the surrounding areas, you can experience all the exciting options that come with both of these SUVs. Schedule a test drive today by calling (888) 714-4526, or by visiting our website.