No matter what kind of cuisine you're in the mood for, there's a fantastic restaurant in Allentown that does it well. Treat yourself to a night on the town and a delicious meal at one of the locations on our list of the best restaurants in Allentown, PA. We'll see you there!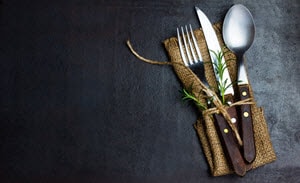 Bolete: Farm-to-Table Freshness
Bolete is a small restaurant located in what was once a stagecoach inn, so it has lots of charming character that new buildings simply can't replicate. With just one 8-burner stove, Chef Lee creates the menu daily with food that's prepared entirely in the small kitchen. All sauces, stocks, and pastas are freshly made by hand, and the restaurant even butchers and smokes all of its own meats and fish. The restaurant has a homey, cozy feel, and you'll be welcomed in like family.
The Hamilton: Upscale Urban
The Hamilton is your destination for classic yet creative American cuisine, and is located in the heart of downtown Allentown. The menu items take on regional classics popular across the country, and you'll experience a real old-school pub feel at the restaurant, which features vaulted brick ceilings, reclaimed wood, and crimson leather seating. Bring your friends for a delicious meal and a drink form the carefully crafted menu, with offerings to complement each dish.
Youell's Oyster House: Sumptuous Seafood
Youell's Oyster House has been serving fine seafood since the late 1800s (really!). The menu reflects seasonal seafood offerings, and you'll enjoy an upscale yet comfortable environment. Although the restaurant has changed locations and ownership many times throughout its long history, today it occupies a spacious and beautiful new building, and offers a mezzanine level for private events, as well as a rooftop garden. Jumbo lump crab meat is picked by hand each day and is served in a variety of delicious dishes.