If you're looking for a pizza place in Emmaus, PA, then you're probably not willing to settle for anything less than the best. Why is that? Well, there are so many appetizing pizza joints around that it'd be pointless to do so. With that in mind, here's your official guide to the best pizza places near Emmaus!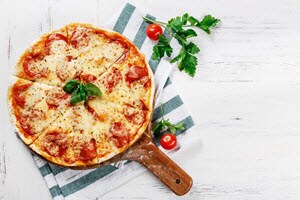 You can choose between 1251 S. Cedar Crest Boulevard and 1091 Mill Creek Road in Allentown—that's where to go if you want some of the tastiest pizza pie available. Or, they'll deliver it to your door!
The Cedar Crest location is operated by beloved local figure "Uncle Phil." He's been in the business of bringing you delectable Italian eats for over 30 years! Additionally, Penn Pizza Restaurant has been family-owned and -operated for the past 10 years. In other words, they're known for keeping a long-standing tradition of quality.
Some of their best-looking options include the Biancaneve Pizza, Bruschetta Pizza, and German Pizza.
They're open 10:30 AM to 10:00 PM Monday through Thursday, 10:30 AM to 11:00 PM Friday and Saturday, and 11:00 AM to 10:00 PM on Sunday. You can satisfy your craving whenever you'd like!
Salvatore's Pizzeria is proud to call themselves family-owned and -operated since 1974! That means they've been doing their thing since a gallon of gas cost 55 cents and the Sears Tower was the largest building in the world. In other words, they've had plenty of time to perfect their techniques.
Their menu features items like Vegetable Pizza, Pomodoro Pizza, Salvatore Special, and Meat Lover's Pizza.
Their website describes their product as, "Neapolitan pizza cooked at 900 degrees in our Italian wood oven for you to enjoy with family and friends." Oh, and they have salads and desserts, too. Awesome.
In terms of their history, Switchback Pizza is the new kid on the block. However, the owners, Andrew and Marguerite, made sure to do things right. They spent a few months in Italy on an organic farm so that they could learn how to make traditional pizzas the way they're supposed to be made. Wow!
Blue Moon Pizza? Four Cheese Pizza? Meatball Pizza? Vegan Pizza? Pizza of the Week? You're covered!
Discover Other Tasty Local Spots Around Emmaus PA Right Now!
If you'd like to eat something besides pizza, it's still possible to find a restaurant in Emmaus! Check out the rest of our blog, where you'll find a variety of restaurants in the area. Thanks!