EMMAUS, PA – Emmaus High School students are offered a safe and exciting after-prom alternative, thanks to Kelly Automotive Group's gracious sponsorship. The party, which has been held at Emmaus High School for eleven years, incentivizes students to stay safe after prom with the chance of winning a car, donated by Kelly Automotive.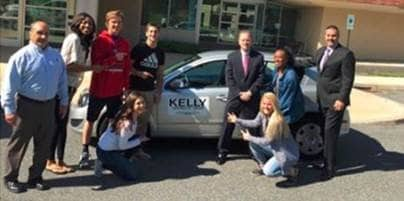 Among school staff and local business leaders alike, student safety is of the utmost importance. The Kelly-sponsored party encourages kids to stay safe in a fun, pressure-free environment where they can relax with friends. When the clock strikes 7am the next morning, those that have stayed the entire night are eligible to win a new car.
This year, following the most successful bash yet, Kelly Automotive President Greg Kelly headed over to Emmaus High School to hand over the keys to their chosen vehicle. As he arrived with used car director Ken Corch in tow, several students stood around the grand prize beaming with excitement. Their principal, David Piperato, appeared equally as enthused.
Kelly Automotive Group's generosity has acted as a major boon to this post-prom alternative, which has grown in popularity in recent years. With the prospect of winning a new car introduced, attendance has risen to approximately 500 students, and continues to grow.
While other students may unfortunately run the risk of drinking and driving on prom night, these alternative post-prom partiers face an entirely different outcome. Instead of losing a car, they may just gain one. As word continues to spread, the party is sure to draw even more hopefuls next year.
About Kelly Automotive Group: Kelly Automotive Group is a local automotive leader with eight franchises in the Lehigh Valley. Founded in 1967, the group is currently celebrating 50 years of automotive excellence, with over 100,000 cars delivered to date. Known for a "Risk Free" car buying experience and up-to-the-minute live market pricing, Kelly Automotive has been previously voted #1 Pre-Owned Automobile Dealer in the Lehigh Valley for Risk-Free Pre-Owned Specials.